April 2021
QualSights Announces New Head of Marketing – Smita Kamath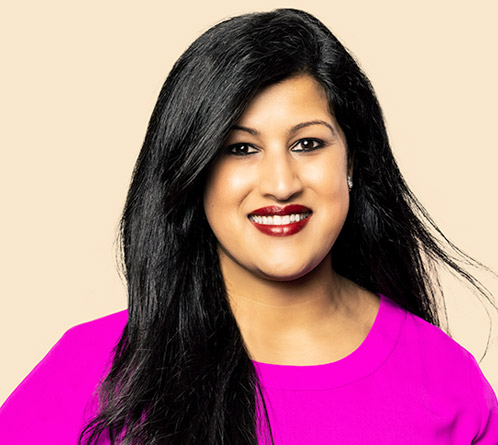 Smita Kamath
Head of Marketing
QualSights welcomes Smita Kamath as the new Head of Marketing. Smita brings 17 years of experience leading brand marketing, digital marketing and innovation strategy across well-known brands like Mondelēz, Jockey International, NARS and Tyson Foods and is an alumna of Michigan State University and Columbia University.

In her previous role as Head of Marketing at Dermaflash, a startup beauty brand, she developed the brand's positioning and visual identity and collaborated with a cross-functional team to launch the brand's first innovation product. She also built and led a full-scale marketing team to create marketing collateral across multiple channels including digital, TV, retail, print and experiential events. She's looking forward to applying the same drive and creativity that fueled her previous successes to this new position at QualSights.

In her role as Head of Marketing at QualSights, Smita will lead the cross-functional leadership team to develop the brand's positioning and visual identity and work with the demand generation team to refine business development processes. Ensuring the brand maintains a compelling and engaging presence in both digital and social media marketing channels as well as managing public relations efforts will also be within her purview

When asked about her new role at QualSights, Kamath said she is "excited to make an impact on a fast-growing startup like QualSights" and sees this as the perfect opportunity to combine her love of consumer insights with her strong background in brand marketing. She is especially excited by the people she'll be working with. "Everyone I've met is categorically smart, ambitious and kind. It is rare to find all three of those qualities in one person and I'm thrilled to have the opportunity to work with such a wonderful team."

QualSights is especially pleased to have Smita as part of their team and looks forward to a productive year ahead. Founder and CEO, Nihal Advani, says "Smita will be a valuable asset to our leadership team." He also said he is "excited to work with Smita on a number of strategic initiatives, especially defining our brand positioning." Kamath represents yet another excellent addition to the growing company, and the QualSights team welcomes her to the family.